In a ship pollution accident which might be caused by ship collision, grounding and etc, the consequences and damages that entail could be devastating. Inviting expertise to attend the spill and the response actions is the prior step for assessing and minimizing losses.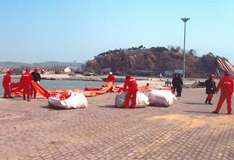 The emergency response actions may involve a great deal of anti-pollution ships, equipments, and man powers at sea and onshore.
Losses in sea farming and fishing industry might happen
There also might be enormous cost in recovering the environment

-----What can we do for you?

Appoint experienced master mariners to attend on site within shortest notice, to obtain first hand evidence for ascertaining the cause and nature of the accident.
Take samples of the spilled oil as well as the oil remained on board for carrying out oil fingerprint analysis if required.
Assist quantifying the spilled oil.
Simulate and monitor the movement of the floating oil.
Supervise or record the progress of clean-up activities and coordinate with the parties concerned so as to achieve the best effect with minimized cost.
Collect photo/video/paper evidence to assist assessment of the economic loss such as the loss of sea products